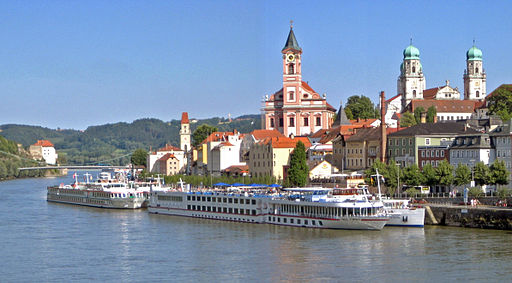 Until the Berlin Wall came down in 1989, most parts of Eastern Europe were sealed off from all forms of international tourism. Travelers have since discovered a vast array or cultural riches on the other side of of what was long known as the Iron Curtain. From the ornate cathedrals of Prague to the remnants of ancient castle along the banks of the legendary Danube, Eastern Europe contains countless treasures. One of the best ways to enjoy this part of the world is to take a river cruise where you can relax and watch the scenery go by during the day and experience Eastern Europe's great cities during the evening. River cruises have gained significantly in popularity during the past several years, but because they offer a substantially different experience from ocean cruises, different preparation methods are necessary. Following are three strategies designed to optimize the European river cruise you're planning.
Go for the Glitz
Unlike classic ocean cruises, river cruises stop at ports of call virtually every night. Because Eastern Europe has fabulous opera, fine dining, and other cultural and entertainment options that are worthy of full-on formal attire. Packing for an ocean cruise generally involves one formal night at dinner in the ship's main dining room rather than off-board excursions to local nightlife. Even though you'll be spending each night of a river cruise in a different city, most people prefer to take along more than one formal attire option. Enjoying an opera performance in Prague or dining at an exclusive restaurant in Budapest are experiences of a lifetime that deserve every ounce of glitz and polish that you can fit into a suitcase. Try for at least three formal options and bring enough accessories to change them up enough so that you'll have a unique look for each occasion.
Bring Walking Clothes
You'll also be spending more of the day on land on a river cruise than you would if you'd opted for a typical ocean cruise. Eastern Europe river cruises are all about exploring the individual ports of call instead of being on the open water. Ports such as Bucharest and Kiev have numerous ruins of old medieval castles that offer fascinating glimpses into life in the Middle Ages, but you'll need good footwear to get the most out of the experience. Walking among ancient ruins does not involve comfortable, flat surfaces, so be sure to pack a pair of superior walking shoes and thick socks. Also, keep in mind that many of the streets in towns and cities situated on the riverbanks of countries like Slovakia and Croatia are narrow and winding passageways that often involve significant uphill and downhill terrain, so bring nonrestrictive clothing in breathable fabrics to pair with your sturdy walking shoes.
Take Healthcare Precautions
Certain destinations in Eastern Europe involve elevated risks of contracting diseases that are not commonplace in the United States. For instance, polio and typhoid have both surfaced in various parts of Eastern Europe, and yellow fever outbreaks have become so prevalent that Albany requires travelers to be vaccinated as a condition of being allowed to cross their borders if they are coming from countries where that disease has been found to be present.
It's also a good idea to arrange for medical transport in the event that you become ill or injured while on a trip. Even though the likelihood of an emergency situation occurring is small, being prepared will streamline situations that require quick action and alleviate obstacles that cost substantial time and money.
It's also important to be extra vigilant about personal cleanliness and hygiene while on a river cruise. River ships are smaller than ocean going vessels, which means that quarters are slightly more cramped. Use hand sanitizer liberally, particularly before meals after washing your hands thoroughly. Keep in mind that certain surfaces such as door handles and stairway railings are more likely to contain germs than others because they are touched much more frequently.
Above all, relax and take in every aspect of this enthralling part of the planet.